This is paid content. It was written and produced by MYMOVE in partnership with Home Chef.
Whether you love to cook or you struggle to put together a PB&J, the moving process will have the best of us scrambling to put something edible on the table. That's why meal delivery services like Home Chef are such a great match for movers or anyone too busy to grocery shop: they'll send you all the fresh ingredients you'll need to whip up fabulous meals in your own kitchen. These are five of our favorite recipes to fill your new home with flavor. 
MYMOVE exclusive offer
Use code MYMOVE120 to get $40 off each of your first three boxes.*
---
First night in your new home
Shrimp Primavera Pasta
with zucchini and roasted red peppers
Meal Type: Oven-ready
Prep & Cook Time: 30-40 min.
Difficulty Level: Easy
Cook Within: 3 days
Spice Level: Not Spicy
You won't have to go digging through the moving boxes to find the right kitchen tools for this recipe. This shrimp primavera pasta can be whipped up in about a half hour, and it comes in the tray you cook it in. Just turn the oven on, layer the ingredients, and garnish with Parmesan.
MYMOVE pro tip
Unpack the kitchen first. That way you won't be rummaging through boxes looking for the coffee first thing in the morning.
Eat better in 2023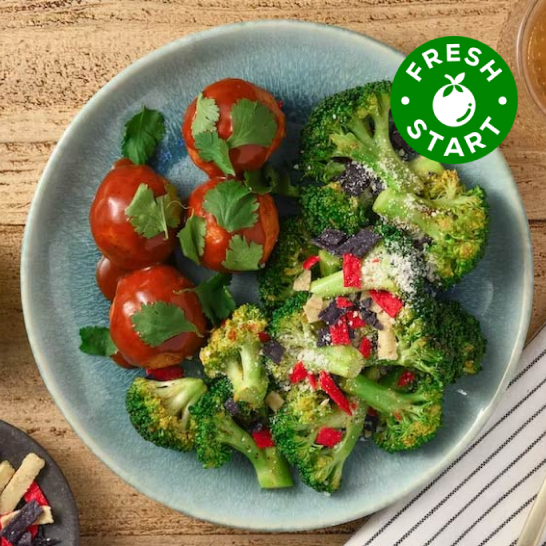 Turkey Enchilada Meatballs
with cheesy tortilla broccoli
Meal Type: Express
Prep & Cook Time: 10-15 min.
Difficulty Level: Easy
Cook Within: 4 days
Spice Level: Not Spicy
For a perfectly balanced meal that doesn't sacrifice flavor, these turkey enchilada meatballs are one of our favorite meals for getting the new year started on a healthy note. The enchilada sauce gives the meatballs tons of flavor, and they pair perfectly with the broccoli topped with cotija cheese. The entire meal takes about 15 minutes from start to finish, and it only has 20 grams of carbs per serving.
First dinner party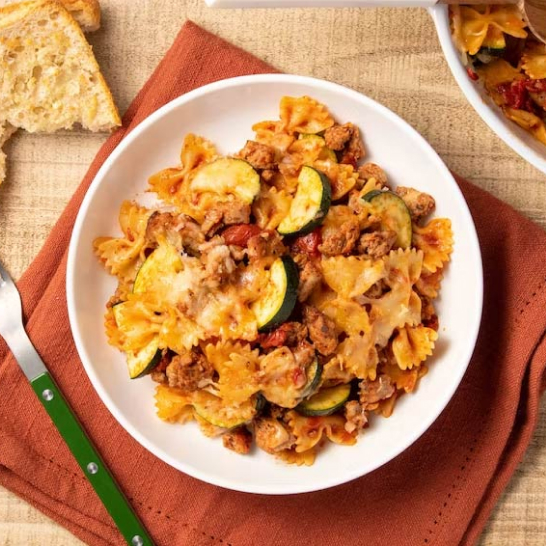 Baked Italian Sausage Farfalle
with zucchini and garlic bread
Meal Type: Meal Kit
Prep & Cook Time: 30-40 min.
Difficulty Level: Expert
Cook Within: 5 days
Spice Level: Not Spicy
You've finally settled into your new home, and you're ready to entertain. This baked Italian sausage farfalle from Home Chef is the perfect meal for a first get together. It takes about a half hour to prepare, and you can order up to eight servings. With fresh zucchini, sweet tomato sauce, and mozzarella cheese baked golden brown, this dish will leave everyone impressed — and leave you plenty of time to enjoy the company.
Special occasion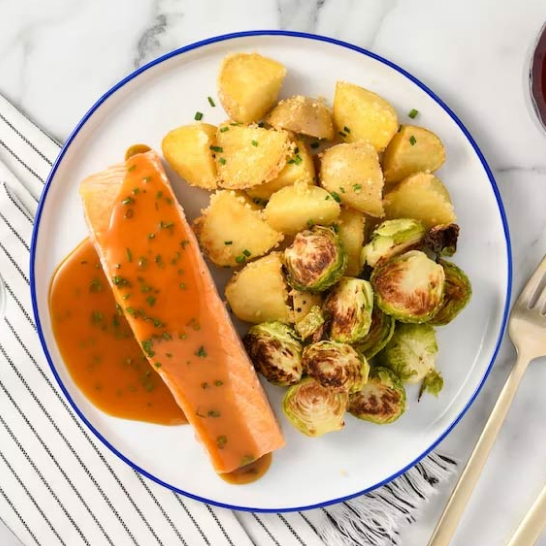 Salmon and Wine Butter Sauce
with Parmesan potatoes and Brussels sprouts
Meal Type: Culinary Collection
Prep & Cook Time: 50-60 min.
Difficulty Level: Expert
Cook Within: 3 days
Spice Level: Not Spicy
Celebrations call for a special meal. Whether you're celebrating your first month in a new home, an anniversary, or just a Saturday night, this salmon with wine butter sauce is the kind of meal you usually have to make a reservation for months in advance. 
It'll take about an hour of prep time, but that extra effort will be well worth it when you plate your picture perfect salmon next to the crispy Parmesan potatoes and Brussels sprouts. You can also substitute chicken, filet mignon, or sirloin steak for this special occasion meal.
For families on the go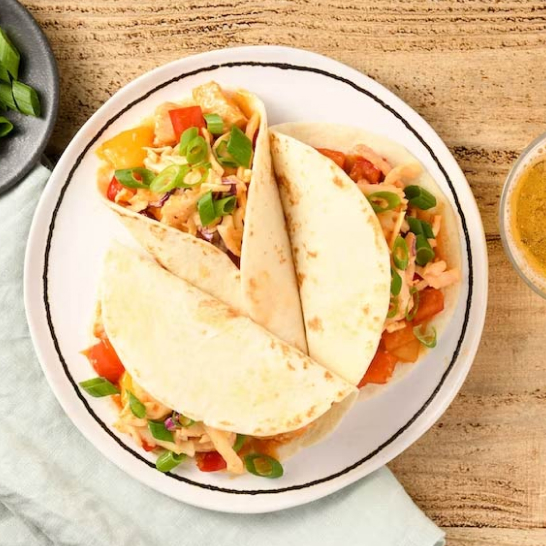 Sweet and Sour Chicken Tacos
with mango and Sriracha slaw
Meal Type: Express
Prep & Cook Time: 10-15 min.
Difficulty Level: Easy
Cook Within: 4 days
Spice Level: Medium
These sweet and sour chicken tacos are perfect for those busy school nights running from band to soccer practice. They have something for everyone: tangy sweet and sour sauce, floral mango, and spicy slaw on top that cuts through it all. You can have this on the table in about 15 minutes, but we won't tell anyone if you want to say you've been working on it all day.
How Home Chef works

Home Chef is incredibly simple to use. Just choose the meals you want to try each week, how many people you'll be cooking for, and any substitutions you'd like to make. Standard meals start at $7.99 per serving, and a minimum weekly order of $49.95 is required. 
Pick your meals
Every week, Home Chef offers over 30 meals and plenty of extras to choose from. When you sign up, you'll answer a few questions about your preferences, and they'll recommend meals they think you'll enjoy. You can also filter recipes by categories like calorie conscious, carb conscious, and meals that take less than 30 minutes.
Customize it
One of the features that separates Home Chef from other meal delivery services is its customization. You can do things like swap out the standard protein for an antibiotic-free version, and it's incredibly easy to change up the number of meals or servings you want to receive each week.
Cook and enjoy!
Your meal kit delivery will arrive at your door with all the fresh, pre-portioned ingredients you need. You can use the step-by-step recipe cards to effortlessly create and plate your dishes. Home Chef sends deliveries Sunday through Friday — just select the days that work for you. Delivery day options may vary according to where you live.
---
What's next?
Whether your kitchen is still in boxes or you're fully settled in, it's always a good time to give Home Chef a try. You can start by exploring their rotating menu of more than 30 meals. And don't be afraid to customize your meals to create your ultimate new home comfort food!
*Terms & Conditions: New customers only. Once redeemed, full balance of offer expires 10 weeks after you sign up. No carry over permitted. May not be combined with other offers. May not be used for gift cards. Not redeemable for cash. Not eligible in all states. Click here for additional details. Void where prohibited.