Travertine and porcelain are both popular paving options, each with their own advantages and benefits. If you're struggling to pick between the two and are looking for more information, you're in the right place!
Travertine and Porcelain – What's the Difference?
Travertine paving is a type of limestone. Like all limestone, travertine is soft and incredibly porous.
Travertine is a popular paving option due to its beautiful aesthetic. Its light beige/ivory colour means that it's easy to match with a wide variety of colour palettes, and it also naturally brightens a room.
Although travertine is a popular paving option, it's not without its hinderances. The natural porosity of travertine means that it can potentially absorb a lot of moisture, thus, having travertine paving on your property requires a lot of maintenance and upkeep.
This is where porcelain as a contending paving material comes in. Unlike travertine, porcelain paving has naturally very low porosity, and as a result, it is low maintenance, slip-resistant, stain-resistant, strong, durable, and generally just has a large number of advantages travertine doesn't have.
If you're yearning for the beautiful aesthetic of travertine paving but don't want the hassle, you might be surprised to learn that you can have the best of both worlds!
Here at PrimaPorcelain we're proud to offer porcelain paving tiles with the travertine aesthetic, allowing you to have the look you're after whilst avoiding the excessive maintenance that comes with natural travertine.
If you want to get a better idea of how travertine porcelain paving products will look on your property, take a look at the results achieved by some of our previous customers.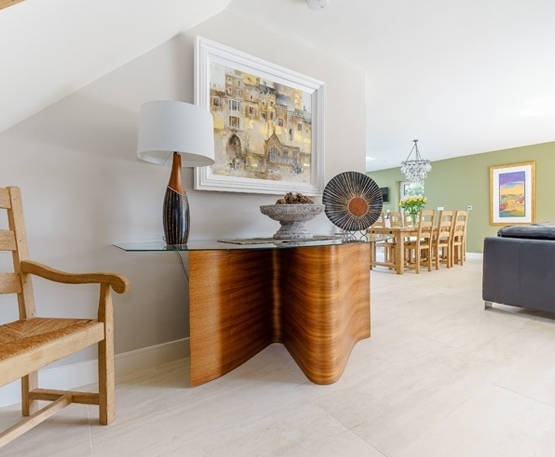 This customer reached out to PrimaPorcelain asking for our expert advice about a paving related issue they were facing in their home.
They had previously installed natural travertine paving indoors and outdoors because they loved the aesthetic and natural beauty of travertine stone, but were struggling with the upkeep and maintenance that came with it.
These customers were keen to explore some of the alternatives available to them with PrimaPorcelain's products, and we were more than happy to help them out!
We helped these clients pick out the perfect travertine ivory tiles (both indoor and outdoor), giving them the aesthetic they wanted, whilst also allowing them to enjoy the natural benefits of porcelain paving.
They were delighted with the results:
"We wanted the look without the hassle. Prima had the quality and product choice… The inside and outside are extremely easy to clean and look pristine with very little effort."
If you'd like to take a closer look at the results we achieved with these customers, check out our case study webpage!
Our Travertine Porcelain Tiles have the stunning aesthetic of travertine with all of the natural benefits of porcelain paving products, such as slip-resistance and low-maintenance. But why take our word for it? Order up to three FREE samples today from PrimaPorcelain.